Breaching Tools
Kodiak Tactical Systems is a leading manufacturer in the field of breaching tools, training aids and custom manufacturing of breaching equipment.
The quality of our breaching tools and training aids is a result of decades of experience and development under rigorous conditions and have yielded a full suite of durable, reliable and efficient tools for the tactical and rescue communities.
We only use the highest quality materials and the end result are high quality, sustainable products that can be used in the field or under extreme training conditions for many years.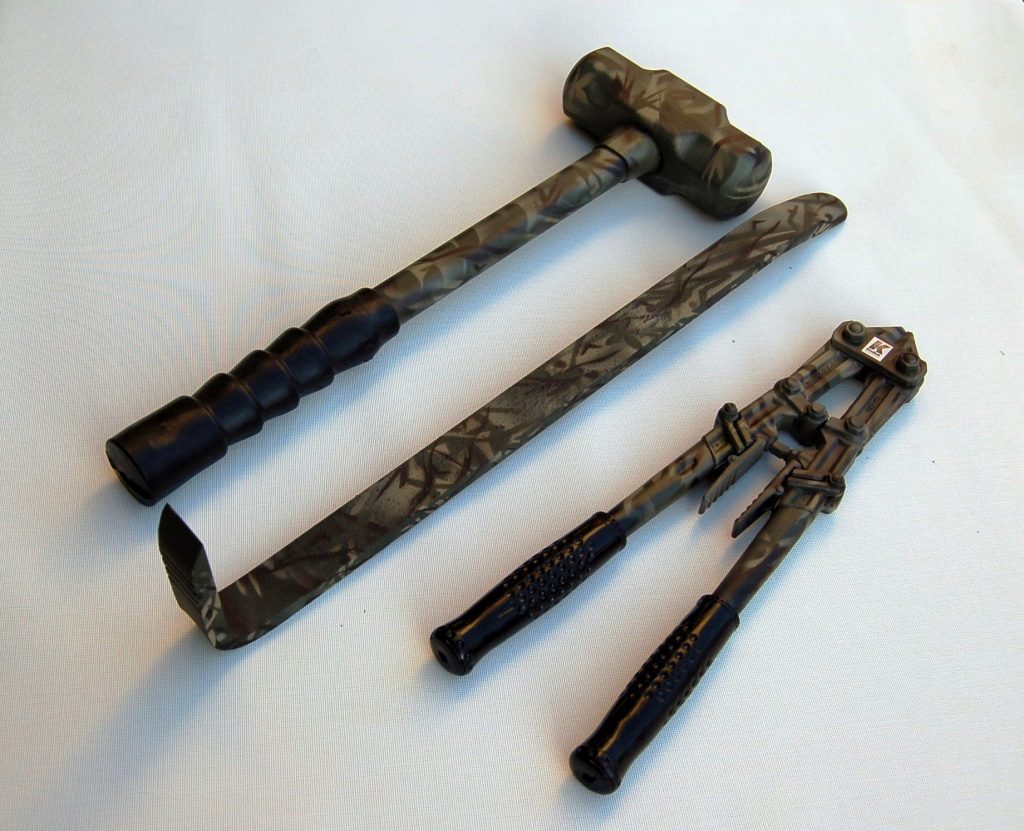 Breaching Tools In Tactical Situations
Kodiak Tactical Systems Breaching tools are handmade using the highest quality materials available to provide strength and durability for use by law enforcement and military personnel.
Developed for real world use, Kodiak Tactical manufactures each item with safety and quality in mind.
Kodiak Tactical Systems have been deployed around the world and are currently in use by military, law enforcement and government personnel conducting training, breaching exercises, tactical operations and rescue services.
Some incidents require manual breaching tools for speed, stealth or simple convenience.
Hydraulics, mechanical breaching tools and explosive breaching all have their place in tactical and rescue operations, but there are times when manual breaching is just more practical for the operators in the field.
That's where Kodiak Tactical Systems excels in the development and manufacturing of high quality, durable breaching tools. If we don't have a tool to fit the mission or training environment that you need, we can design and build it to exceed your expectations.
Breaching Tools For Training
Kodiak Tactical has produced specialized Breaching tools and forced entry tools at the request of various law enforcement agencies and both foreign and domestic military units, with no minimum quantities required.
Atmospheric Accessories for Training Facilities
Custom Produced and installed components to enhance your training environment to more realistic look and feel.
Breaching Tools for Rescue Services
Fire fighters, first responders and rescue teams use breaching tools on a daily basis. With that in mind Kodiak Tactical Systems makes it a point to ensure that our equipment is mission ready the day it leaves our manufacturing facility and is intended to fulfil the end user's mission requirements.
Non-Tactical Uses
Disaster preparedness is another use for our breaching tools. Schools and disasters for self sustaining, private security companies, other organizations who wish to have a self sustained response in the event of a disaster have sought out our tools as a solution.
Private Security – It's not uncommon for private security to be the first on-scene in an emergency situation and if that situation requires an extraction of some kind, it's best for those security personnel to have the proper training and equipment to take responsible action. In these cases, our tools in the right hands can be instrumental in preserving life and property in extreme circumstances.
Breaching Tools For All Needs
The entire line of Kodiak Tactical Breaching tools is developed with the same level of care and precision to ensure a uniform level of performance across the field.
With minimal requirements for care and maintenance, due to our use of superior materials and durable designs, our breaching tools have a proven track record and last for years under the most extreme use case scenarios.
Our Inventory of Tactical Breaching Tools Includes:
Custom Breaching Tools
Because Kodiak Tactical Systems manufactures products in-house, and does not purchase in bulk from overseas manufacturers, custom manufacturing is available with no minimal requirements or additional fee for customization.
Our manufacturing process is quite simple. It consists of welding, metal fabrication and forging. Titanium tools are all hand forged using centuries old blacksmith techniques. Our philosophy is to provide well crafted, hand-made tools that are built to last, and perform the required duties when needed.
All we need to start is an idea of what you're trying to accomplish and a concept of what you're looking for and we will work with you to design a tool to fit your needs.
Even if all you have is a concept for a tool and the need that tool will fulfill, Kodiak can start working on a design for that tool that can then be produced for your team, agency, or company.
A rough sketch is often an excellent starting point if you have it, if not we just need a basic description of your idea and what its going to be used for.
Please contact us and we can provide you with a quote for the item you require in the quantity you need.
Use Case
While conducting searches for vehicle borne IEDs, Navy EOD personnel were impressed with the strength and durability of the titanium pry bars we built for them.